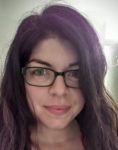 Welcome!
I'm a writer, consultant, and speaker that helps people discover and create their Bonny Adventure. (Bonny means beautiful).
For over a decade I've specialized in dating and relationships (first with About.com / The New York Times, now on my own). I currently also write about my life of full-time travel and my obsession with tea. In past lives, I've served as a chocolatier, swim coach, social worker, entrepreneurship mentor, and ghostwrote several books about all manner of fun things like baby names and the day-to-day life of a reality star.
Get comfy, pull up a chair, take a peek around. Questions? Send me an email.